What is 4-H?
University of Wisconsin-Extension programs in 4-H give young people opportunities to learn new skills, gain self-confidence and contribute to their communities.
What are the goals of UW-Extension programs for young people?
4-H programs are designed to achieve specific outcomes for youth. Develop capable and responsible young people.
Create community partnerships with meaningful roles for young people.
Prepare youth for work.
Enable youth to deal with violence in their communities.
What does 4-H do for kids? 4-H youth development programs teach young people to:
Develop and test practical living skills in a safe and supportive "real world" environment.
Become actively engaged in their communities and better informed about local issues.
Prepare for the world of work through direct experience with projects and activities that correspond to future career opportunities.
Experience success in a non-formal learning environment.
Develop communication and problem-solving skills through public presentation and group work.
What is the 4-H pledge?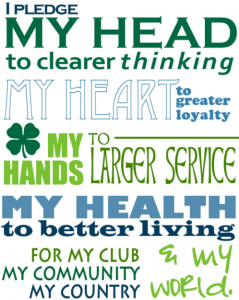 4-H IS NOT JUST FOR ANYONE, IT IS FOR EVERYONE!
In 4-H members explore the world around them! 4-H'ers are able to choose from a variety of projects that include animals, arts and crafts, foods, theater and much more! As they explore these projects, 4-H members build skills that can last a lifetime. They can become club officers, activity leaders and project leaders. Whatever your location and interests, there is a place for you in 4-H!
ENROLLMENT OR RE-ENROLLMENT: Remember that current members and leaders need to re-enroll by November 1. For more information see the Family Enrollment Guide.
Staff
If you have any questions regarding 4-H in Price County, please contact:
Julie Diepenbrock, 4-H Program Educator
Extension Price County
Normal Building, Room 240
104 South Eyder Avenue
Phillips, WI 54555
Work Cell Phone: (608)381-2435
Office Phone: 715-339-5339
Email: julie.diepenbrock@wisc.edu